Here's the fourth and last of the stand-alone vignettes from
"Contingencies"
, originally
published on LiveJournal
on December 24, 2006. Author notes slightly changed from the LJ original. Not terribly seasonal at the present moment, given that stores are having after-Christmas sales . . .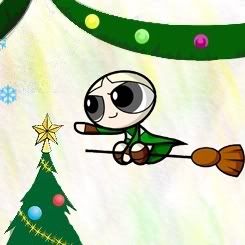 Title:
Deck the Halls
Author:
Persephone Yavanna the Entwife
Pairing/Characters:
Draco, Lucius and Narcissa Malfoy
Wordcount:
5,016
Rating:
G for gen (in other words, completely work-safe!)
Warnings:
None
Disclaimer:
JK Rowling and assorted others have rights to create derivative works within the Potterverse, but I am not one of those licensees, unfortunately. Rather not be sued for playing with the characters, though . . . not making a profit here, just exploring the characters and situations created by the esteemed Ms. Rowling.
Summary:
The Malfoys decorate for the holidays
Author Notes:
This holiday-themed piece was inspired by the PotterPuff picture above. Takes place after
Fatherly Advice
.
(
Collapse
)